Tooth Colored Fillings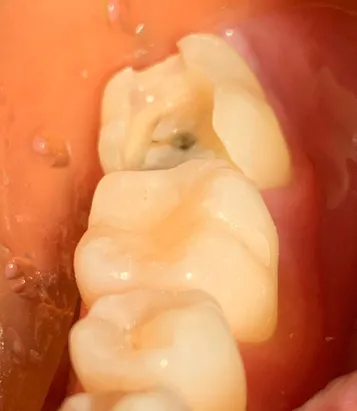 Before: Broken filling and tooth in molar with decay
After: In a couple of hours, the instantly transformed molar looks new! Due to a significant loss of tooth structure, this tooth will need to be crowned later for long-term function and success
A tooth-colored filling known as composite resin is used to replace a cavity or to replace an old, leaking amalgam (silver) filling. It is molded/sculpted to restore the shape of a tooth and it is bonded using an adhesive gel that is placed on the tooth. After the resin has been applied, a special light is used to harden the resin, which is then polished to give a fresh, new smile.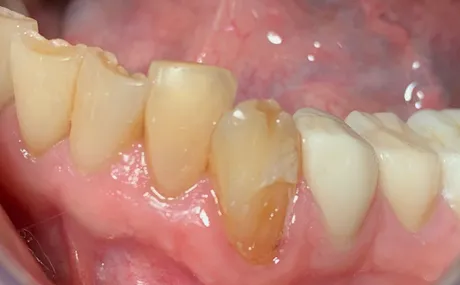 Before: Significant tooth loss and recession at the gum line due to history of severe bruxism (observed moderate wear on edges of teeth), periodontal disease, and aggressive brushing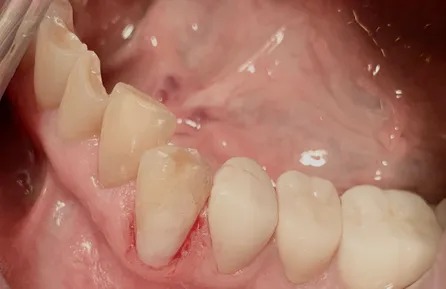 After: In a simple 30-60 minute visit, look at the instant transformation! Also notice the natural-looking porcelain crowns (precise crown margins using dental technology) performed by Dr. Hanah Pham
Bonding is a popular method to enhance the aesthetics of your smile. Bonding can be done in the office in one visit. A patient can come in with cracks, gaps, and roots exposed due to gum recession in their teeth, and leave with a beautiful, white smile with no gaps or defects.
Bonding is an obvious improvement over unsightly silver amalgam fillings. With the advancements in dental technology, bonding usually lasts for over 10 years with proper maintenance. It is a safe, affordable, and attractive solution for many dental problems that can be done in one visit.
Call our office today or request an appointment for a free consultation to see if bonding can transform your smile! Dr. Pham is highly trained in cosmetic dentistry and she serves patients in Reston, Fairfax, Herndon, Sterling, Vienna, Manassas, Springfield, Burke, Annandale, Arlington, and surrounding areas in Northern Virginia.