Dental Prevention to Ensure Long-Lasting Health

We often wonder what is preventative dentistry. It is exactly what it says... It is the practice of dentistry that prevent dental problems. Preventive dentistry is the caring of your teeth to keep your teeth cavity-free and your gums healthy. This helps to avoid cavities, gum disease, enamel wear, and more. There are many forms of preventive dentistry, such as daily brushing and dental cleanings. When people don't brush and floss regular, they will develop bacteria (plaque) accumulation. Streptococcus mutans is a the culprit for decay causing bacteria. It is a cariogenic microorganism that breaks down sugar for energy and produces an acidic environment, which demineralizes the superficial structure of the tooth. The early phase of the tooth lesion (demineralization) before cavitation before the breakdown of the tooth's surface is reversible with proper oral hygiene and high-concentration of fluoride therapy. This is why patients of Dr. Hanah Pham at Reston Sunrise Dentistry appreciate the conservative approach to monitor early lesions and to focus on the remineralization with high-concentration of fluoride therapy.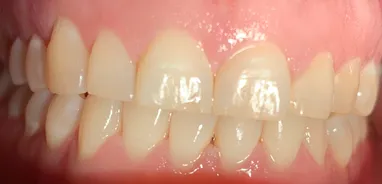 At Reston Sunrise Dentistry in Reston, VA, patients will agree that Dr. Hanah Pham and associates do focus on preventing cavities, gum disease, infection and trying to help patients maintain their healthy gums in an easy-proven routine developed by our dentist in Reston. Prevention at Reston Sunrise Dentistry office includes the common recommended routines:
Get a Routine Regular Cleaning in at Least Every 6 Months (depending on if your gums are healthy or if you have a history of gum disease). Healthy gums, like the photo to the right of an actual patient of Dr. Hanah Pham, should look pink and tight with no bleeding when brushing and flossing. If you have bleeding, your gums are telling you to floss more often or seek professional care.
Professional Flouride Therapy: The ADA and Dr. Hanah Pham highly recommend children and adults to get at least 2 times a year topical fluoride done at the end of each cleaning visit. Dr. Hanah Pham also recommend for patients with moderate and high risk for dental problems to get home care "specific" medicated tooth paste (high concentration of fluoride) and only can be dispensed at the dental office. Fluoride treatments may help restore the tooth enamel by remineralizing the start of an early cavity and can sometimes reverse a cavity in very early stages. All the preventative products are FSA and HSA-qualified.
Brushing Regularly: At least twice a day, in the morning and at night time. Our Golden Rule is never to skip brushing at night!
Brush After Meals: After lunch, after sticky foods (chocolates, candies, cakes, snacks, and etc … Water, water, water--good for your health and for your teeth. You can have water with you everywhere to swish after coffee, beverages , milk , cereal... The idea is to at least rinse out carbohydrates (sugars that feed the bacteria--steely mutants--in the mouth that cause cavities .

What is the Difference Between a Prophylaxis and a Periodontal Maintenance?
Prophylaxis (regular routine cleaning)
For patients who normally get their teeth professionally cleaned every 6 months or sometimes shorter intervals, and do not have bone loss, periodontal disease, or infection around the teeth. There should be no minimal bleeding , pockets, or gaps (black triangles) due to gum and or bone loss. In other words, the mouth should be healthy with no gums or bone issues.
Depending on how fast the stain, plaque, and tartar build-up, a regular routine cleaning is usually done 2 to 4 times per year. Insurance companies will consider a healthy routine cleaning a preventative procedures and normally should cover for the majority of the fees.
If you had a history of gum treatment, like scaling root planing or periodontal surgery, or you have periodontal disease that has resulted in bone loss, pockets (more than 4 mm), gums bleeding, root surfaces exposed due to recession of the gums, you will need periodontal maintenance and not a regular prophylaxis. This is more involved in cleaning the areas below the gum line with more scaling than in a regular prophylaxis. Root surfaces are smooth and cleaned if needed, gum pockets are monitored, inflamed gums are irrigated with antibacterial medicines if necessary. Periodontal maintenance is more involved than a regular prophylaxis (commonly known as a polish).
Dr. Hanah Pham truly believes in preventative dentistry. Preventing a problem from appearing is as important as the quality of the dental procedure, if needed. She would rather help you prevent cavities, gum disease, enamel wear, and other dental problems by emphasizing brushing, flossing, fluoride treatment, and splint therapy as an early intervention. This will save the patient money for costly dental work and also preserve the health and the integrity of the dentition. While at our office, we make sure that you receive the highest level of service and ensure that our dental work is of the highest quality. With establishing good dental hygiene routine, patients will ensure their teeth and restoration remains healthy and long-lasting. Dr. Hanah Pham would rather help you prevent a dental problem from occurring than wait for the problem to occur. If you have any questions about your current hygiene plan, please ask us.
Your teeth are not the only important part of your mouth, your gums are essential to oral health as well. Dr. Hanah Pham and her office provide regular cleanings and dental maintenance in preventative dentistry to children and adults for the families in Reston, Fairfax, Herndon, Sterling, Vienna, Manassas, Springfield, Burke, Annandale, Arlington, and surrounding areas in Northern Virginia. Please contact us at (703) 860-4148 or request an appointment using the form below for a free consultation and let us know if you have any questions.