Bruxism - A Custom Balancing Occlusal Splint
Are your teeth sensitive to hot and cold drinks? Do your jaw, neck, or shoulder muscles feel stiff and tired in the morning or throughout the day? Do you wake up feeling like your teeth are sore and have been clamped together? You might be grinding and/or clenching your teeth at night or even throughout the day (a medical condition called bruxism).
Bruxism can damage your teeth by wearing down the enamel and eventually can get closer to the nerve of your tooth and cause the nerves to degenerate. People with nighttime grinding (caused by genetics and/or environment) may wear away their tooth enamel "10 times faster" than normal. Eventually your teeth may be worn down and destroy the nerves inside the pulp chamber of the tooth/it may create fractures extending to the bone level where we cannot save it. It can break your teeth and your crowns, and ultimately it can cause TMJ (Temporal Mandibular Joint disorder).
The image above shows that the lower teeth are worn down by 30% due to grinding and clenching from bruxism.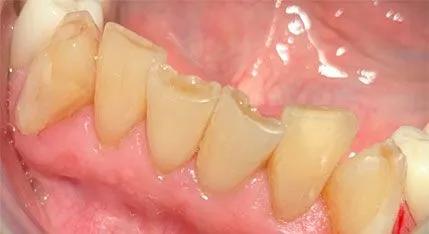 Damage from bruxism as observed in the photo above.

Treating bruxism/clenching is cost-effective compared to ignoring the conditions and exposed teeth to continued damage. If bruxism is not under control or prevented with custom-made guards, it can lead to more complicated dental procedures such as root canals, crowns, bridges, implants, and tooth loss. There are different types of custom guards for bruxism. Generally to treat mild bruxism, Dr. Hanah Pham usually recommends a flexible custom guard for mild bruxism, a comfort 2-layer guard (soft inside, hard outside) for mild to moderate bruxism, a comfort hard guard throughout for moderate bruxism, and a full-blown acrylic custom guard for severe bruxism. Dr. Hanah Pham usually designs the custom guard specific to each individual needs pertaining to size and fit.
To create your custom guard that is specific to your needs could take 2-4 visits to balance the special guard, which includes the fabrication time. The goal is to achieve balance between the customized guard with the teeth, muscles, and joints when wearing the customized guard. It takes special training to understand to balance of dental occlusion and anatomy. Special techniques and skills are required by Dr. Hanah Pham to be able to balance the splint so that it's in harmony with your teeth, head and neck muscles, and ultimately to protect your joints. After the custom guard has been fabricated, every single point in the custom guard will serve as protection from grinding and clenching, which are parafunctional habits. Furthermore, it serves to dampen the forces from repetitive, destructive grinding and clenching that can damage the teeth, muscles, and joints.
Call Dr. Hanah Pham to ask further questions about how you can prevent further headaches and excessive dental costs in the future with a simple, custom balancing guard. The procedure itself is easy and painless. Call today at (703) 860-4148 or fill out the form below.

Dr. Hanah Pham will make a special custom-made guard that is easy to insert and remove.



Here are some testimonials from patients with Bruxism
"

I have been a patient of Dr. Pham for over 12 years and have been very happy with the experience. Dr. Pham and her staff are always cheerful and professional. I recommend Reston Sunrise Dentistry. Recently I have been using a dental guard provided by Dr. Pham. It has helped reduce jaw stress and pain. While it took a while to get used to, I recommend it.

"

John

"

I have been a patient of Dr. Hanah Pham at Sunrise Dentistry for many years. Dr. Pham has been great about addressing my questions and educating me on the best practices in dental care. She and the rest of her staff are always welcoming and proactive about my dental care and very patient with my concerns. I feel confident that their care is top notch and I appreciate their focus on preventative care. For example, in the last year, Dr. Pham created a night guard for me when she noticed signs that I was grinding my teeth at night. Hopefully, this will eliminate any risk of cracked teeth due to grinding in the future.

"

Margaret E.