Implant Dentistry | Reston, VA
Decades of research shows that dental implants offer the best long term solution for tooth replacement. Dental implants have a success rate of over 95 percent! But Dr. Hanah Pham have seen higher than 95% success in her implant patients from Reston Va that she treated with dental implants.
Important reasons are careful occlusal analysis for balancing of teeth when they come together, continuing care to prevent implants, and protective care using oral splint to prevent excessive repetitive pressure on the implants that are avoidable. All these factors are very important in the future long term success in implant dentistry, even after osteointegration (bonding of bone to the implant) that are often overlooked.


Thank goodness for advances in implant dentistry that allow tooth replacement and better chewing to restore function, like you never had missing teeth! Dental implants are used to affix artificial teeth to the jaw permanently, providing the most natural replacement for missing teeth besides the teeth you were born with. Dr. Pham will assess your oral tissue and jawbone ridge to ensure that they're in good shape - a requirement for implants. It's almost like having your natural teeth back again, and you'll be so glad you looked into dental implants.

Titanium dental implants have become the most widely-accepted and successfully used due to its surface and bio-compatibility to fuse together with living bone. Success rate of dental implants are over 95%, and with Dr. Hanah Pham's patients, it's even much higher.


A safe surgical procedure that adds bone to the upper jaw, mostly in the molars and sometimes the pre-molars. This enables implants to be placed in the upper back teeth area that have sinuses proximity.
How Do Dental Implants Work?
Dental implants are designed to serve the same purpose as the root of a tooth. They are small titanium devices that resemble screws that are inserted into the bone tissue below the gumline. When the implant heals into the bone, which may take several months, an abutment and permanent crown are placed on the top. With a porcelain or ceramic crown, the implanted tooth is indistinguishable from your other teeth.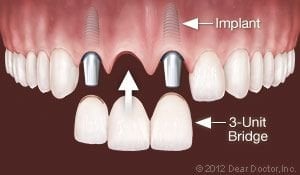 Replace Multiple Teeth
When you have more than one tooth missing, implants provide an ideal replacement mechanism. You don't even need one implant for every missing tooth. Instead, implant teeth can act as supports for fixed bridgework. For example, if you are missing three teeth in a row, we can place two implants, one on either side of the gap, and a crown in between that has no implant underneath. That way, you won't need to use any of your remaining natural teeth as bridge supports, which could weaken them and make them more susceptible to decay.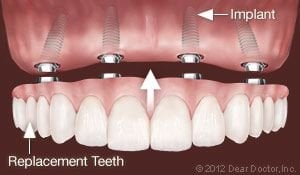 Replace All Teeth Permanently
— Implants can support an entire arch of upper or lower replacement teeth that are fixed into the mouth and are never removed. Sometimes the new teeth can be supported by as few as 4 implants. It's comparable to the structure of a table, which only needs 4 legs to hold it up. In cases where jawbone density and volume have deteriorated, 5 or 6 implants might be needed to support a row of 10 to 12 teeth. Dental implant replacement teeth protect your jawbone, won't slip, and should last a lifetime.
Do you need Dental Implants or would like to learn more?
Then call us at (703) 860-4148 For more information or to book your appointment.

We serve the Reston, Fairfax, Herndon, Sterling, Vienna, Manassas, Springfield, Burke, Annandale, Arlington, and surrounding areas in Northern Virginia.