Veneers
Veneers are an excellent way to redesign and reshape your entire mouth. Veneers are a very thin ceramic shell that covers your existing tooth structure. In placing these new veneers on your teeth, you are able to fix the look of issues such as staining, cracked teeth, spaces, misaligned teeth, chipped teeth and many other issues.
In terms of the process to place veneers, it is a process that takes approximately two to three visits. In the first visit, we will discuss the new shape and look of what we are going to accomplish by placing the veneers. Once we have put a plan in place, we will carefully prepare the teeth for the placement of the new veneers. As we complete this piece of the process, the next step is to take an impression of the newly prepared teeth. This impression will be sent to our laboratory for the final product to be fabricated. We only utilize the highest standard laboratory for fabrication of all of our work. This process at the laboratory takes between 10-14 days. While the new veneers are being fabricated at the lab, we will provide you with a beautiful temporary solution to wear for this time.
At Reston Sunrise Dentistry, Dr. Hanah Pham will do a complete cosmetic dentistry workup to plan on creating the best possible result that will last you for many years to come, if maintained properly. You will notice during the visit, Dr. Hanah Pham takes many photos at different angles for communication with the lab to allow the best creation of a better, new smile that you've been waiting for. Dr. Pham has high standards and will never compromise quality and results, and she may send it back to the lab to make sure that it is an A+ quality. Even if it takes multiple attempts, she will never cement the veneer or cosmetic work if she wouldn't do the same for herself or her family. More importantly, Dr. Hanah Pham goes above and beyond the standard to make sure that the margin has a complete seal; this is very important in the long-term success of the veneer and veneer crowns. This commitment to quality distinguishes excellent dentistry from average dentistry. There are different types of porcelain veneers available for different situations and different needs. Dr. Hanah Pham has very advanced training in cosmetic dentistry and she can perfect the finished look with the balance between aesthetic and function.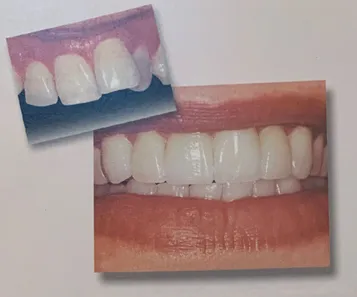 Straighten crooked teeth with Veneers and Invisalign or Fastbraces to complete the Hollywood look in as few as 2 visits.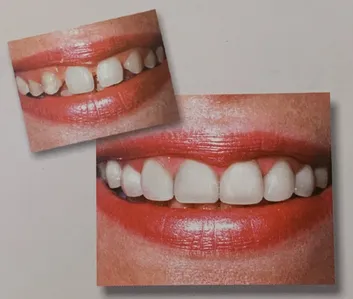 Close unsightly spaces with customized veneers after whitening to give the WOW factor!
Rest assured that you will be happy with your new smile within the boundaries that your teeth allow! For long term success of your cosmetic work, Dr. Pham will always recommend to protect your veneer investment with a customized guard.
Lumineers and Vivaneers
These are super thin veneers that are contact lens-thinly shaped porcelain that are bonded to your teeth and are used to correct color and shape discrepancy. The fact that they are very thin allows us to minimize the preparation of the tooth to create beautiful transformations of your teeth
Due to the fact that there is minimal preparation, there is often little to no discomfort in this procedure. The procedure often requires 1-2 visits.
Call our office today or request an appointment for a free consultation to see if different kinds of veneers can transform your smile! Dr. Pham is highly trained in cosmetic dentistry and she serves patients in Reston, Fairfax, Herndon, Sterling, Vienna, Manassas, Springfield, Burke, Annandale, Arlington, and surrounding areas in Northern Virginia.