Dental Implants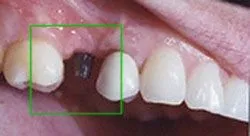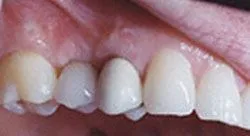 Wouldn't you want to be able to chew the way you used to? Regaining the confidence begins with being able to eat and smile.

Millions of Americans suffer tooth loss—commonly due to advanced tooth decay, advanced periodontitis, or trauma (sports or car accidents). Today, dental implants have been the treatment of choice over bridges and dentures, which were the older treatment options for many years.

If you are missing one or more teeth, you'll want replacements that are as natural as possible. If dentures don't work for you, you may want to consider dental implants at Reston Sunrise Dentistry in Reston. Unlike dentures, which can be removed, implants are permanently anchored into the jaw itself. You are a good candidate for dental implants if you have jawbone ridges that are in good shape and healthy oral tissues.

Dental implants integrate with your jawbone and replace the root that is missing, then we have to restore the crown that is missing by attaching an implant abutment to the implant that has been integrated successfully to the jawbone. After that, we take an impression and the lab creates a natural-looking implant crown that becomes part of your teeth. Nobody will know that it's not your natural teeth!
Dr. Pham can analyze your individual situation and determine if you're a good candidate to have dental implants, or she will offer other available options.
So contact Reston Sunrise Dentistry by requesting an appointment or dialing (703) 860-4148 and make an appointment with Dr. Hanah Pham for a free dental implant consultation, for dental implants that are a perfect fit and look as good as or even better than your original teeth. Just visit our smile gallery to see how dental implants can transform a smile, right here in Reston, Fairfax, Herndon, Sterling, Vienna, Manassas, Springfield, Burke, Annandale, Arlington, and surrounding areas in Northern Virginia.
-----------
What is a dental implant?
Dental implants are small titanium post inserted in the jaw with a minor surgical procedure to replace roots of missing teeth. The bone will bond to the implant in a few months (known as osteointegration).
When people having missing teeth, they do have options (such as dentures, bridges or implants) to replace the missing tooth (teeth). Not replacing the missing space can lead to complications in the mouth (missing teeth).
Nowadays, dental implants have become the standard of care and a more common treatment for replacing missing teeth.


Disadvantages of Dental Implants:

Surgery
Because the implant must be attached to your bone, it requires surgery. And there are always risks to consider with any kind of surgical procedure. Some of the risks include infection, nerve damage, damage to surrounding teeth, jaw fractures, and more.
Time
Getting a tooth implant is not something that can be done in a single office visit. Bone heals slowly, to the entire procedure can take several months, around 3 months on the fast end to 6 months (depending on factors like age, health, healing, bone quality, etc)
Cost
Now, the cost will vary depending on the type of implant and the conditions of the tooth issue. Still, the high cost associated with getting a dental implant is often in stages, the surgical and the restorative stage, which are about 3-6 months apart or longer if they need the time to save up. Once a dental implant is placed in the jaw, the bone is stable from bone loss, which allows patients more time to save up and budget if they wish. Most dental insurance do cover for dental implants but all insurance plans are different in the benefits. The selection of benefits are between the patients (if individual policies) and employers (group policies) and the insurance companies. Sometimes a patient only have a couple of plans to chose from, and does not include implant coverage. Rest assure that we have financing option with Carecredit or other payment savings will be offered. We do will always try to help our patients and find the most affordable routes so they can get dental treatment to help them reach dental health.


Advantages of Dental Implants:
Improve chewing efficiency- no limit in food choices compared to your natural teeth that people are born with . Sliding of dentures can be embarrassing and causing problems with eating. Implants is fused to the jaw bone, they are permanent and can function as your normal teeth.

Improve appearance & self-esteem- Dental implants can give you the confident to eat, talk and smile so that you can regain your confidence again.
Protect Your Jawbone--

Having an open space in your mouth where a missing tooth once was puts your jaw bone in the area at risk for the bone to melt (deteriorate) away causing bone loss in height and width.

With having d

ental implants in the missing space, they stimulate and preserve natural bone growth, which helps prevent bone loss.

With out

a tooth root or dental implant in the bone, bone will deteriorate and slowly recede with time.
Click here or the image below to learn more about Dental Implants in this video
Interested in Dental Implants?
Give Dr. Pham, your Reston Sunrise Dentistry dentist a call at her Reston, VA office today at (703) 860-4148 for more information!