Sedation Dentistry | Reston, VA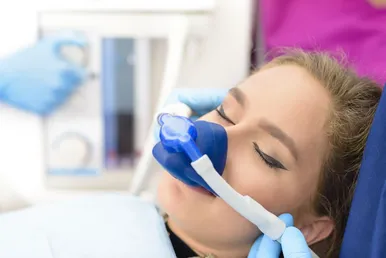 You're at the right place for all of your sedation dentistry needs. We are the leading center for sedation and comprehensive dentistry. We even have a board-certified anesthesiologist (not a dentist) who can safely administer IV sedation to allow deep level of sedation for our patients, including the most fearful and patients with special needs. Other medical and dental offices refer patients to Dr. Hanah Pham for IV sedation and oral sedation dental needs, and we're easily accessible for a free consultation. Once you call us for a free consultation about sedation dentistry, you will end your search with Dr. Hanah Pham at Reston, VA. Wouldn't it be wonderful to never dread the dentist again?
At Reston Sunrise Dentistry, Dr. Hanah Pham's office, we specialize in Sedation Dentistry but we do general and cosmetic dentistry for children and adults of all ages. Dr. Hanah Pham and her team are areas leader in delivering compassionate dental care to people suffering from dental phobias and for the population with the special needs. With years of experience treating this patient population, we proudly relate success stories of patients who come to us from all over the region.

Our patients can attest that dental phobia is a paralyzing fear that keeps people from obtaining regular dental care. Our patient population ranges from as young as infants to as old as patients in their 80's. We know that an estimated 9-15% of all Americans avoid regular dental care due to fear surrounding the dental visit. This translates to some 35 - 45 million people so afraid of dental treatment that they avoid it altogether.

Whether you need a filling, deep cleanings, root canals, periodontal work, crown and bridge, extractions, or even cosmetic procedures to improve your smile and restore your teeth and gums to dental health, you'll be stunned at how much dental work can be done while you're relaxed and sedated. With our comforting environment and the expertise from our team, we also provide blankets, headphones, relaxing music. You may or may not need sedation dentistry once we've completed the complex dental work. Perhaps you may just some patience and tender, loving care from us.
We know with dental phobias, Dr. Hanah Pham and her team understand that fears start with bad dental trauma. We understand that if we can patiently and systematically gain the patients' trust to not inflict the pain and dental trauma they remember, then eventually we can graduate them from deep sedation dentistry to mild sedation dentistry, or even join our other patients for regular dentistry.
Sedation dentistry is a wonderful choice for patients who feel anxious or nervous about their dental treatment. Sedation dentistry involves using a sedative medication to help you feel more relaxed and calm during your visit. There are several types of sedation dentistry available based on your individual needs and preferences:
IV sedation, at our practice, we're one of the few dental offices that has our board-certified anesthesiologist administer our IV sedation (through the veins). This method of delivery allows our patients to become deeply sedated quickly, in minutes. The patient will be sleeping, monitored, and easily controlled by the titration of medication through IV sedation method. We work with the best professionals in the field and our IV sedation is not administered by a dentist, rather a specialist in the medical field, for this reason it's very safe and comfortable.
Oral sedation, at our practice, Dr. Hanah Pham assesses your levels of fear and puts together a combination of sedative medication in the powder form placed underneath your tongue. She also will monitor your vitals and redose you to your therapeutic levels, which allows patients to safely reach the highest level of sedation that oral sedation can offer. This requires a higher level of training and permits to administer high-end oral sedation. This is not just taking an oral medication before your visit, which does not require a higher level of training or permits; this is not oral sedation. Most likely, you will not remember details about your visit, but oral sedation is not as deep of sedation as IV sedation.
Nitrous oxide (N2O), also known as laughing gas. This sedative gas is mixed with oxygen and inhaled during your treatment to help you feel more relaxed. Nitrous oxide is a mild form of sedation that wears off within just a few minutes after we stop the flow of gas.
Sedation dentistry will help you feel more comfortable during your treatment. Our experienced dentist and team will ensure that your entire treatment is safe. Each member of our team is highly trained, and we will carefully monitor you during your visit. Depending on your sedation option, you may need to have a friend or family member available to drive you to and from your appointment.
If you suffer from dental anxiety, have had negative experiences at the dentist in the past or simply feel nervous about your treatment, sedation dentistry can help you feel more at ease. Sedation dentistry is also a good choice for patients who have difficulty getting numb or who have an extremely sensitive gag reflex.
Sedation Dentistry for Special Needs Patients:
Getting dental treatment may not be the highlight of your week, especially if you are someone with a fear of the dentist or a true phobia; however, here at Reston Sunrise Dentistry, we understand that our patients come with a variety of different needs and some of them could benefit from sedation dentistry. Sedation dentistry is a safe way for patients of all ages, from children to seniors, to get the dental care and treatment they need while feeling relaxed and at ease during the process.

We love our patients and we want everyone to feel welcome and comfortable when they step foot in our office. Our dental team will do what they can to help make your dental visit a pleasant one. Sedation dentistry is just one way in which we work with our patients to change their mindset around dentists and dental treatment. Sedation dentistry can also be a major benefit to patients with disabilities and special needs. From kids with autism to seniors with painful neck problems, sedation dentistry could make it possible for you or a loved one to finally getting the necessary dental treatment for a healthier smile.
Here at our dental office, we understand that traditional dental care may not provide the individualized care that patients with special needs require. These special needs may come in the form of certain medical conditions, genetic disorders, trauma or physical injuries. These complications can sometimes make getting dental care more difficult. This is where sedation dentistry can help.
Sedation takes the discomfort out of undergoing dental work and allows the patient to feel more relaxed. This also makes it easier for our dentist Dr. Hanah Pham to get the job done in a timelier manner so you spend less time in the dental chair. Since patients with special needs may find it more challenging to properly care for their teeth this increases their risk for gum disease and cavities. Preventive dental care and six-month cleanings can reduce you or your child's risk for common oral diseases.
If you or someone you love has a dental fear, you know how embarrassing it is to smile that can dramatically affect a person's self-esteem and quality of life. When you finally have the courage to make the first phone call (703) 860-4148, or contact us to schedule your free consultation with us, that's half of the battle already. Rest assured that our compassionate team and Dr. Hanah Pham will welcome you without judgement.

We provide sedation dentistry for Reston, Fairfax, Herndon, Sterling, Vienna, Manassas, Springfield, Burke, Annandale, Arlington, and surrounding areas in Virginia and neighboring states.



Don't wait another moment if a dental phobia has kept you from getting the care you deserve!
For more information on Sedation Dentistry, call our Reston, VA office at (703) 860-4148!



---