Cosmetic Crowns & Bridges
Dentistry has come a long way with crown and bridges technology. It came from the era with metal crowns and bridges structures showing the gray discoloration and staining the gums gray from corrosion, and now we have superior cosmetic results of ceramic/porcelain/zirconia restoration, which contains no metal under structure. These superior materials are able to transmit, reflect, and mimic the color of natural teeth. This enables Dr. Hanah Pham the freedom and the tools to give the patients the ultimate cosmetic results that will blend with the surrounding natural teeth. The additional benefits of natural ceramic and the beautiful strength of zirconia, which are all non-metal alternatives, is that they are non-allergic and they look so natural.
In Reston, VA, Dr. Pham's cosmetic dentistry will require a complete cosmetic work-up to plan and create the best possible results that will last you many years of happiness if maintained properly. You will notice during the visit, Dr. Hanah Pham takes many photos at different angles for communication with the lab to allow the best creation of a better, new smile that you've been waiting for. Dr. Hanah Pham has high standards and will never compromise quality and results, and she may send it back to the lab to make sure that it is an A+ quality. Even if it takes multiple attempts, she will never cement the cosmetic crowns or bridges if she wouldn't do the same for herself or her family. More importantly, Dr. Hanah Pham goes above and beyond the standard to make sure that the margin has a complete seal; this is very important in the long-term success of cosmetic crowns and bridges. This commitment to quality distinguishes excellent dentistry from average dentistry. There are different types of non-metal porcelain crowns and bridges available for different situations.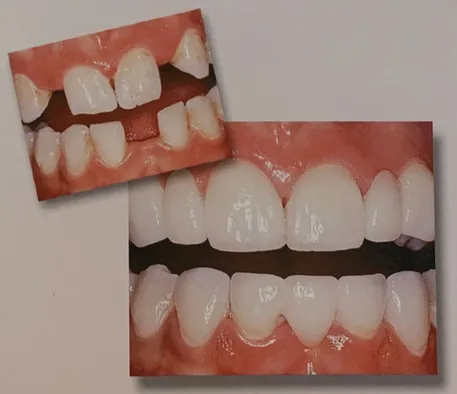 Replace missing teeth with technology - Cosmetic Bridges (a non-metal alternative) in as few as 2 visits.
Description coming soon!
Dr. Hanah Pham has very advanced training in cosmetic dentistry and she can perfect the finished look with the balance between aesthetic and function. The details and the pre-work involved in the work-up and the careful attention to specialized techniques and theories in her advanced cosmetic training during her Fellowship years will give you the best results that your teeth allow. Dr. Hanah Pham's patients have expressed their gratitude at how much detail and effort from Dr. Hanah Pham to give them the smile that they've been waiting for. You can read our endless
testimonials
and also visit our
patient gallery
as testament to the dedication and wanting what's best for her patients. Patients who have had cosmetic work, crowns as bridges and other work done by Dr. Hanah Pham claim they "had wish they had done it 10 years ago... what a life-changing service!"
Please call us (703) 860-4148 at for any questions about cosmetic crowns and bridges that you may have. Many patients from all over in Reston, Fairfax, Herndon, Sterling, Vienna, Manassas, Springfield, Burke, Annandale, Arlington, and surrounding areas in Northern Virginia choose us for their crowns and bridges.